JULY 2015~ FEATURED DOG ~
~ MEET KODA ~
**ADVANCED OFF LEASH BASIC OBEDIENCE TRAINED
KODA is an ADORABLE, calm, mild mannered 2 year old Brindle/White Terrier mix. She weighs approximately 45.2 lbs. She is spayed and is up to date on all vaccinations including rabies. She has been HW tested and is currently on HW prevention. She is house trained and crate trained. KODA is good with all people and other dogs. She does not like cats so will do best in a home without cats. KODA is very fortunate to be fostered by a dog trainer from Carolina Mountain Canine Dog Training in Lenoir, NC. She has received Advanced Basic Obedience Training with a focus on remote collar off leash training. The commands covered in the Advanced Off Leash Basic Obedience Training includes:
• Sit
• Heel
• Place Command
• Come
• Down
• Issues like Jumping & Counter Surfing
The Advanced Off Leash Basic Obedience Training is a 6 week in house training camp that covers all of the basic obedience commands with a focus on off leash training.
KODA is is a very well-mannered dog that you can take out with you without any problems.
She will come with a new harness, collar and leash, Rescue ID Tag, HW prevention, Complimentary 30-days of free Pet Insurance from PetFirst Insurance and her remote training collar. Carolina Moutnain Canine Dog Training offers her adopter(s) a guarantee for as long as you own the dog. They also offer a free diagnostic consultation and two free follow-up visits if any issues arise. You will receive of a video of her training giving commands to help you stay on target with the commands that Koda has been taught.
KODA is microchipped with a Nano-Chip and is registered at Found Animals Microchip Registry
KODA was rescued from Columbus County Animal Control in Whiteville, NC on 1/2/14 along with her 6 week old puppy KARLY who has already found her forever home. She is very sweet, loves to give kisses and loves to snuggle. She is a very happy, loving and well mannered little girl who will make someone a very special friend.
If you are interested in adopting KODA, please complete the ADOPTION APPLICATION at this link:
https://tsaabanimalrecue.pandaform.com/pub/fmblk3/new
or by e-mail to: tsaabanimalrescue@gmail.com
Adoption application and home visit will be required prior to adoption approval. A meet and greet may be arranged once the adoption application is approved.
More photos of KODA may be viewed at this link:
http://www.tsaabanimalrescue.com/adoptable-pets.html
---
~ CAROLINA MOUNTAIN CANINE ~ COMPASSIONATE OBEDIENCE TRAINING AND BEHAVIOR MODIFICATION SERVICES
(877) 978-0827
3750 Dreamfields Lane
Lenoir, NC 28645

Bring your dog to Carolina Mountain Canine in Lenoir, North Carolina, for trusted, compassionate obedience training and behavior modification services. We will work with you and your dog to help you get the behavior you expect.

http://www.carolinamountaincanine.com/

https://www.facebook.com/CarolinaMountainCanine?fref=ts


More photos of Koda may be viewed at this link:
---
CHARITY PARTNERS
https://www.supportyours.org/store/threesistersandabrotheranimalrescue/sort/all

---
Book your pet friendly hotel reservations on BringFido.com. Each time someone books a reservation using the code "TSAAB" by March 30th and completes their stay, Three Sisters and A Brother Rescue will receive a $10 donation.
---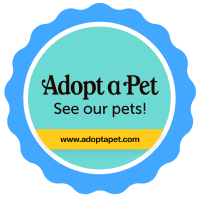 MISSION STATEMENT: We are a 501(c)3 non-profit animal rescue organization that works to rescue dogs and cats from high kill shelters in North Carolina, South Carolina, Georgia and parts of Virginia and/or from individual situations that put them in need of a forever home. We place them in approved foster homes until an approved forever home is chosen.

FOUNDED: October 14, 2012
FOUNDER and PRESIDENT: Jill Wheaton Lindsey
We are a 501(c)3 non-profit animal rescue organization located in Dallas, NC. We achieved our 501(c)3 non profit corporation status under the laws of the state of North Carolina on 4/1/13 and our Federal non profit status on 4/1/15 . Our current coverage area is throughout North Carolina, South Carolina, Georgia and parts of Virginia. As soon as possible after coming into our care, our rescued animals receive a medical evaluation, required vaccinations (including but not limited to Distemper, Parvo, Rabies, and Bordetella), they also receive any medical attention the Veterinarian deems necessary to restore them to optimal health, and are spayed or neutered. We will insure that they are in good health or are on their way to a full recovery before adoption. All of our rescued animals are ideally placed in approved FOSTER HOMES and are not kenneled at a facility. However, if it means saving their life, I will board them in a wonderful boarding facility ONLY until a foster home can be found. This way, the animals receive one on one care, as well as the love and attention that only comes from being in a family environment. We learn their likes, dislikes, and temperament and can address any illnesses or behavior problems quickly. They live indoors with our own pets, as if they are our very own.

**We do not have a physical location for you to see our pets. All of our rescued animals are placed into our network of foster homes.

We strive to provide education to the public regarding the care and welfare of animals, vaccinating against preventable diseases, and the importance of spay/neuter.

Rescues need YOU to save a life! There is no more rewarding feeling in the world than opening up your heart and home to an animal in need. Their lives depend on YOU!

We truly appreciate all of your love and support for our rescue. We all share the same love of animals and with your help, we can expand and eventually save even more animals.


CHARITY PARTNERS

We are delighted to announce that we have partnered with ResQThreads to help raise money for
Three Sisters and a Brother Animal Rescue, Inc.
Each week ResQwalk announces a donation pool (e.g. $2,500) and in order for a rescue to receive donations from the pool, its supporters simply need to check-in to the app when they go for a walk. You can get the app here:
http://resqwalk.com/
Please be sure to choose us as your Animal Rescue. We truly appreciate every donation received and all you have to do is walk your dog and record it on the app. THANK YOU!!
---
We are pleased to announce that we are a new
CHARITY PARTNER with CHARITY WICKS.
Share the Light and Share Our Story...
To order these candles, please visit:
www.CharityWicks.com/TSAAB
Orders may also be taken over the phone by calling Benefit Wines at (978)297-5477.
---
We are pleased to announce that we are a new
CHARITY PARTNER with BENEFIT WINES
. Share A Bottle of Wine this Holiday Season and Share Our Story...
To order these wines, please visit:
www.BenefitWines.com/TSAAB
Orders may also be taken over the phone by calling Benefit Wines at (978)297-5477.
---
---
Does your dog need a vacation? Ruff Guide to the United States features 365 of the best places to stay and play with your dog in all 50 states. Whether your pooch prefers to 'ruff it' on a hiking adventure or sit in the lap of luxury at a five-star resort, the assortment of trips in this book is sure to have him (and you) begging for a vacation! When you enter code "TSAAB" at checkout, you'll get free shipping, and we'll get a $10.00 donation for each book sold! http://www.ruffguides.com/shop/book